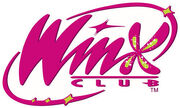 Winx Club has aired 104 episodes on Rai Due in Italy created by Iginio Straffi, and then it came to 4Kids TV. And it became live-action on 4Kids channel with actors and actresses.
Winx Club Galaxy is coming early 2010, and it's based on the film Zathura. Winx Club Galaxy is from TriStar Pictures, the sequel to Zathura from Columbia Pictures.
Liza jacqueline: Bloom
Amy Binbaum: Stella
Maura Tierney: Musa
Breanna Thompson: Flora
Katey Sagal: Tecna#
Thorn Thompson: Sky
Brady Kelly: Brandon
Michael Sinterniklaas: Riven#
David Garrison: Helia#
Ed O'Neill: Timmy#
Keke Palmer: Aisha
Guest stars
Edit
Caroline Rhea: Icy
Courtney Cox Arquette: Stormy
Caren Lyn Tackett: Darcy
David Faustino: Zach#
Christina Applegate: Katie#
Amanda Bearse: Eileen#
Noah Wyle: Max
A number sign (#) means an actor/actress starred in Winx Club from Married... with Children.
Ad blocker interference detected!
Wikia is a free-to-use site that makes money from advertising. We have a modified experience for viewers using ad blockers

Wikia is not accessible if you've made further modifications. Remove the custom ad blocker rule(s) and the page will load as expected.