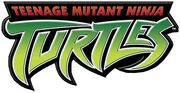 Teenage Mutant Ninja Turtles, the TV show that was originally set in New York City. It's in a new location, and it's Kansas City, Missouri.
San Riegel: Donatello (voice)
Frank Frankson: Raphael (voice)
Wayne Grayson: Michelangelo (voice)
Michael Sinternklaas: (voice)
Katey Sagal: April O'Neil#
Dax Shepard: Casey Jones
David Garrison: Shredder#
A number sign (#) means an actor/actress starred in Teenage Mutant Ninja Turtles from Married... with Children.
Ad blocker interference detected!
Wikia is a free-to-use site that makes money from advertising. We have a modified experience for viewers using ad blockers

Wikia is not accessible if you've made further modifications. Remove the custom ad blocker rule(s) and the page will load as expected.